We were delighted to receive the first review of our reusables from one of our lovely families.
Mum Lucie said:
"The nappies are brilliant! The adjustable size with the poppers means I can use them on my 9 month old and my 2 year old. The poppers also have the added bonus of lasting longer than the velcro reusable nappies; which from my experience lose their stick. I have not had any leaking issues and they last a good amount of time before they need changing. The fabric is soft and according to my 2 year old the are more comfy than his current brand of reusables.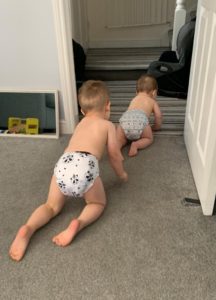 "The biodrgradable liners are an excellent size which spread across the whole nappy and catch everything. They flush well too.
"I highly recommend them and would definitely go for these over my Bambino Mio nappies if I was starting my baby journey again."
Fancy trying our nappies for yourself?
Our Reusable Nappy Starter Kit is just £50 and contains:
4 Marvellous Monochrome nappies
100 biodegradable nappy liners
Everything you need to get started in one, great value bundle!