We loved the green Grandma so much we have invited her to write for us every week! We are lucky to be working with someone so passionate about helping the planet, her tips are for everyone, but especially families! Check out her helpful tips to be as zero waste as possible!
Have you heard of the term 'Zero Waste'? It is a set of principles that redefine the way we dispose of the waste we create. A community of  people spreading the word that we can all reduce the waste we send to landfill, and reduce what we send to be recycled. People are getting their monthly amount of waste created into a tiny jar. Although very fascinating to peek into a zero waster's life, my household is not quite zero waste yet. We can all make big changes though, and we have reduced our waste to half a small bag each week. So, as the first week in September is #zerowasteweek I thought I would share some ideas of how we can all reduce our waste!
Food Waste
The statistics of food waste really are shocking; 1.3 billion tonnes of food fit for human consumption is wasted each year. That is a third of all food produced wasted! What can we do to help? Look at what you actually need before you go food shopping, use everything you have in first. Think about if you will be eating out and only buy what you need. Use up or freeze leftovers; have them for lunch the next day. I have started to put less on everyone's plate, and have a go back to plate and if no one goes back, then lunch for tomorrow. It stops the over serving of food, it is working for us! You can pop unused or unwanted food on free facebook sites, or donate to a local food bank. Forward planning helps with food waste- with a meal planner or weekly menu.
Composting
Composting in our garden has massively reduced our landfill waste. Allowing us to dispose of fruit and vegetable peelings, toilet roll tubes, egg cartons, grass cuttings, brown paper, leaves, teabags, grains, and stale bread. If you cannot compost at home, and your council does not provide a collection service, search the internet to see if there is any collection or drop off projects near you. Ask a neighbour if they compost, or local farms. The possibilities are endless when you really think about it.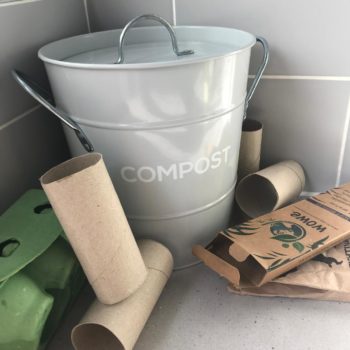 Another way to reduce fruit and vegetable waste is to look into compleat eating. Leave the skins on fruit and vegetables, eat the stalks on broccoli and cauliflower (just cook them first, for 5 minutes longer). Wash and freeze vegetable scraps and turn into homemade vegetable stock. Replant scraps so that you can grow your own (spring onion is great for this!) If you have a bird table share your scraps with the birds, they enjoy bread, fruits and potatoes. It's a great activity for getting the children involved.
Refilling
One big area of change is trying to avoid single use items. Switching to reusable water bottles, coffee cups, and shopping bags this is an easy swap to make. Just retrain your brain and make taking these items out with you second nature. Educate your children on the environmental impact of single use items; help reduce the millions of plastic bottles used every minute around the world. Try and buy fruit not wrapped in plastic, in a plastic bag. Small changes make big changes!  The Conscious Parent Company have a range of zero waste bamboo toothbrushes which are a great way of moving away from plastic. We throw away up to 300 plastic toothbrushes in our lifetime, by changing to bamboo, we stop the waste!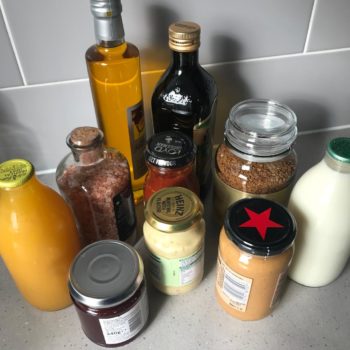 Packaging
Commit to looking for products with no or minimal recyclable packaging, by buying loose fruit and vegetables, look for products in glass jars and bottles. Glass jars can be reused, and if not reused when recycled glass does not degrade through the process, so it can be recycled again and again. Find a refill shop, taking your own food containers and refilling them, stopping all waste.
If you are thinking of making changes start where you are, use what you have and do what you can. We Need as many people as possible doing zero waste imperfectly rather than a few people doing it perfectly. It's all about the little changes, and encouraging others to do the same.
If you would like to make a difference, you can follow Rachael on Instagram  Be more like the green grandma!
Do you follow 
The Conscious Parent
 on Instagram? Make sure you don't miss out and hit that follow button!
How do you find parenting ? Do you worry about climate change?  Have you changed your habits for the good of the planet? Maybe you have experience with having grandchildren? We would love to hear from you. Contact us with your story.