In this article, our guest blogger, Rachel Gardner of charity, Forging Families, debunks some of the myths about having a baby.
Debunking the myths
Being pregnant and having a baby can be a wonderful time but it can also be incredibly hard, and very often it is both. We are told by so many sources (media, friends, our parents, social media) how perfect life can and should be having a baby.
It is almost like the story of the Emperor's new clothes; everyone has to tell the Emperor that his new clothes are incredible even though he is stark naked.
We seem to have the same thing with parenting, with Mums and Dads feeling as if they have to tell everyone how perfect everything is, and not revealing their own truth or feelings.
Which brings us to the first poster we ever created: 'Debunking Myths'. You can see it at the bottom of this page and as you can see its messages are very powerful.
That is because Forging Families is all about parents helping parents, so our posters are always written with the words and feelings that parents have told us they wished someone had told them or simply that they want new parents to know.
Our 'Debunking Myths' poster came from a large group of women wanting new and expectant parents to know the realities and not just the myths that people have been telling for far too long. Here's what they have to say about those myths.
Myth No. 1: You'll feel a rush of love
We're talking about the rush of love you are supposed to feel as soon as you find out you are pregnant or the rush of love you are absolutely, most definitely supposed feel when you first look at your baby.
In fact, we found that whilst this is the case for a lot of Mums, it is by no means what happens to all Mums. For well over half the women we asked, their first feeling was "Woah!" and then over weeks or months their love for their baby grew. For some Mums who were inside of Post-natal Depression it takes longer still, but it does come.
Myth No. 2: Your baby is fine, that is all that matters
This very common myth is so terribly dismissive and belittling to a Mum or Dad who has birth trauma. People have become so used to it being said that I believe they say it without giving its actual meaning any thought, because what it is actually saying is "Baby is fine so you don't matter" and you do matter.
You matter so, so much and your experiences and your trauma matters so, so much. You must look after yourself too, let yourself feel whatever it is you are feeling.
Myth No.3: Dads are useless
Society has changed so much, men's relationship with their children has changed so much but we still use the same language that has been used for generations and generations. The language that describes Dads as useless, "Oh are you babysitting again?" "Nope, I am looking after my own children".
That would never have been said to a Mum, but so often to a Dad. Dads are not useless; they are one half of a parenting team and should be treated as such. We need to see Dads and Mums as equal partners in parenting and not belittle Dads.
Myth No.4: It's the happiest time of your life
The myth that having a baby is the happiest time of your life is one that is told to nearly every pregnant woman. For some Mums and Dads it is, for some Mums and Dads it is very hard and difficult to adjust to, and for some it can seem like a nightmare when also experiencing PND, anxiety, low mood, etc.
For a parent who is struggling, this 'myth' can be so damaging. It is so important to spread the truth, build real awareness and let Mums and Dads know they are not alone.
Myth No.5: You will forget all about the birth
If a Mum has had a traumatic birth she does not just "forget all about it" like we are so frequently told, nor very often does the birthing partner.
After going through a trauma, to be told you should have forgotten about it is again making Mums and Dads/partners feel like they are being told to "get over it".
This is very similar to Myth No.2, that baby is fine so that is all that matters. Your experiences matter and you are 'allowed' to talk about it and to seek help.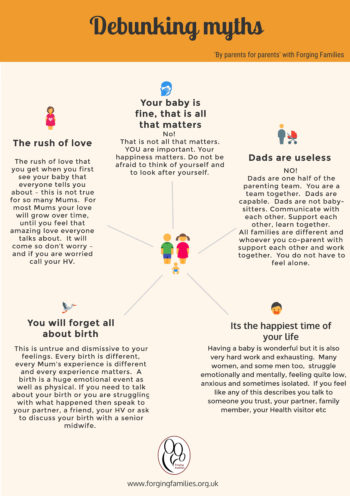 If you feel like any of this relates to you and you are worried about how you are feeling then please talk to someone, your partner, a friend, your midwife, health visitor or you can contact LIGHT Sheffield (a peer support group for Mums with anxiety, depression, PND, birth trauma) – www.lightsheffield.org.uk
And remember, you can also talk to us at Forging Families. Even if you are not from Sheffield, we can still help point you in the right direction for support. Just call me on 07725 972075, email me at rachel@forgingfamilies.org.uk or visit www.forgingfamilies.org.uk
About Forging Families:
Forging Families is a registered charity (no. 1169482) that works to support, inform and act as a voice for Sheffield families. We work alongside Sheffield MSLC, Sheffield maternity services, Sheffield Public Health, the Health visiting team and the CCG to further improve services for the families of Sheffield.