Many families have suffered the painful loss of a little one. After the rain comes a rainbow, and our most recent parent blog as truly warmed our hearts. Here is Lynsey's story of her beautiful Rainbow Baby, and how parenting with the heart is the way forward.
My Partner and I were both raised in Worthing, a town on the south coast of England. It is located next to the sea and nestled within the South Downs. It's the perfect combination of sea and countryside. We have known each other since we were children however we only kindled a romance within the last four years. Those four years have completely changed our lives as we knew them.
We both knew we wanted children and in 2017 we decided to try for a baby. We told our closest family and we were elated to find out shortly after that we had conceived within the first couple of months. A few weeks went by and I went onto a training course at work. I didn't feel right. I felt tummy aches and pains. Nothing that I thought pregnancy would feel like. But I wasn't sure how I was supposed to feel. I tried not to worry and casually went to a pregnancy clinic the following day, thinking I was just being paranoid. That was when they told me. They told me that I had miscarried. The rest is an empty heart wrenching blur. I was at the end of the first trimester, and I know nothing about what my first baby would have been like, all I know is that the baby would have been (and still is) so loved.
We are of course very lucky to have been able to conceive the month after our miscarriage. Making Amelia a Rainbow Baby. I will always ensure that Amelia knows the reason why she is a Rainbow Baby. My pregnancy with Amelia was hard, I was constantly worried that something was going to happen again which made it hard to enjoy my pregnancy. We were so relieved when Amelia was born healthy in August 2018. It doesn't take the pain away and Amelia certainly doesn't replace our first child however we felt so privileged that we were able to become parents. I do naturally feel curious as Amelia hits her milestones as to what our first child would have been like or what they would have been doing. Our Rainbow Baby is now an 11 month old beautiful healthy little girl and our first child will forever be in our hearts.
It was a challenge, along with many other things that come with parenthood. Everything is very public these days. You will always get people who will judge you or think that they can do a better job. However every parent is different, and so is every child. Whether that's because your child is dirty (from playing and exploring outside) to screaming on an aeroplane. Trust me. I've recently been there. I wanted the luggage compartment to open up and let the sky swallow me. Amelia decided to scream throughout our flight home despite our much organised efforts to feed and distract her. Well apart from the last ten minutes before landing when she fell asleep…..of course. I had been up and down the aisle cradling my over tired child whilst feeling the daggers in the back of my head. I could have cried (and wanted to) like Amelia, instead I thought "I'm doing all I can" and surely Amelia should be able to travel and explore the world that we all live in too.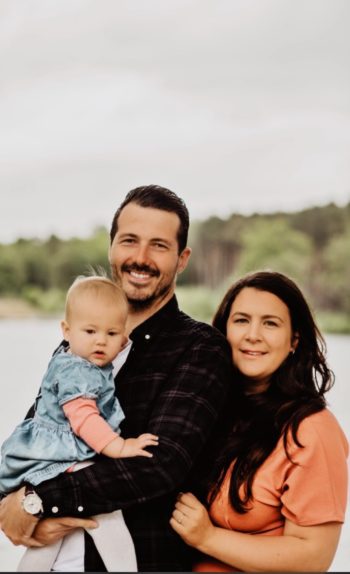 As a parent there is always a pressure to do the right thing. Whether that's pressure from others or the pressure you place upon yourself. Then there's the "parent guilt". We are very lucky that Amelia's Grandma and Grandad play a very active part in her life. When my partner and I first went out without Amelia, all we did was speak about her. Now we go out and let out hair down, and be us! I've learnt not to feel guilty about having "me time". I think it helps me relax and recharge meaning I can be a better parent to Amelia. I don't think that there are many parents love every single second that they spent with their child. It's hard. It's draining. It's tiring. However watching Amelia grow, develop and learn new things fills our world with happiness and love. For me, it is one of the best things about being a parent. Whether it is watching her finding and pressing the button on her new toy (after the same song playing twenty times in a row I sometimes change my mind on that) or her learning to crawl. She has been more than we ever expected her to be and she makes us laugh every single day.
I had Amelia at the age of 29. My mum was a lot younger when she had me and my brothers and she is constantly intrigued by all of the different baby advice and products that are out there now. Times have definitely changed. Now there is a tool for every job!!! I have also heard that saying used by my partner as an excuse for the amount of machinery he has wedged into our garage!
If you walk down a baby aisle in many shops these days the shelves are stacked with multiple different items to make parenting life "easier" or "stress free". Some of course are worth every penny, some I beg to differ. You could just shop shop shop nonstop for babies, but for our family it's important to budget and spend the money where we feel is necessary. We love Amelia to have lots of different toys to explore. One trick we do use is that we will switch around toys every couple of weeks and then bring them out again. Amelia's face lights up with joy at her "new toys" at no expense to us. Obviously with safety items such as car seats we know we can put them in the loft should we be lucky enough to have another baby. Throughout Amelia's first year of growing up we have also had to juggle planning a wedding and adding that to our budget.
As a family we are always looking to be as environmental friendly as we can be. I was brought up surfing and love the ocean whilst my partner is a keen mountaineer. We love spending time outdoors as a family and it is heart breaking knowing that Amelia may not get to see the world as we see it. There are many ways to be environmentally friendly as a parent. The most obvious is changing to eco-friendly or re-usable nappies. We use Bamboo Nature nappies that are available online and bulk buy them so we never run out. Many councils these days will incinerate nappies so they don't end up in landfill.
I believe that people do not have to be 'perfectly eco-friendly' we just need everybody to 'do something' to help. I struggled to find help with how to be an environmentally friendly parent before Amelia was born. I had to look online about recycling food pouches and where we could do it. Funnily enough the recycling bin had been at the supermarket I always shop in for years. It is however tucked away in the smallest, darkest part of the foyer. I had never even noticed it before. I strongly believe that if people were made more aware that it was there then it would be used more. Infact. I'm going to contact them and see if it can be made more visible and therefore making less single use pouches going straight into landfill.
I can't wait to make many more memories with Amelia and as a family. I do worry about the planet, and the world that our Rainbow Baby will grow up in and where the future may lie. I am also going back to work soon, luckily I can leave Amelia with her Grandma and Grandad for two days a week. I know I will miss her, but I also know she will have so much fun playing with different toys and socialising with different people. If I had a parenting superpower I would love to be able to read Amelia's mind, not only to check that she is happy but to see what she fancies doing today? (Does anyone else feel like they run out of ideas to fill every day?)  Or know what she is thinking when she has that first taste of Avocado and pulls the strangest funny face. I know one day she will be able tell me all this. For now I just hold in my heart that she is thinking "you're doing the best job you can Mummy".
Follow The Conscious Parent on Instagram! Don't forget to check out Lyndsey at @LyndseyBeaumont_
How do you find parenting and the environment?  Maybe you have experience with having a Rainbow Baby? We would love to hear from you. Contact us with your story.