The cause of a young girl's death looks set to be investigated for a second time, as new evidence comes to light that outdoor air pollution may have been the main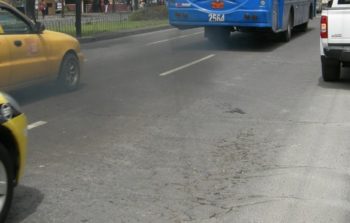 contributing factor.
The original inquest into the death of nine-year-old Ella Kissi-Debrah found that she had died from acute respiratory failure. However, it did not find that this was due to air pollution near her home, despite the fact that she lived and walked to school in one of the worst pollution hotspots in London.
However, after collecting 100,000 signatures in a petition, Ella's mother has persuaded the attorney general to give her permission to apply to the High Court for a second inquest. If this inquest finds that the toxic outdoor air quality caused Ella's death, it will be the first time that anyone will have been found to have officially died from air pollution.
So how bad was the air near Ella's home?
Admitted to hospital for breathing problems 27 times in three years, an expert found a "striking association" between when Ella was admitted to hospital and when there were spikes in the most dangerous air pollutants near her home.
In fact, Professor Stephen Holgate, an expert on asthma and air pollution from University Hospital Southampton, believes that there was a "real prospect that without unlawful levels of air pollution, Ella would not have died".
What's more, outdoor air pollution in parts London is still at shockingly high levels, posing a risk to the health of millions more children and adults.
So bad is it that researchers from King's College London found that London's air was so dirty that it breached the annual limit for pollution just five days into 2017.
What action is the Government taking on outdoor air pollution?
Only a few days after Ella's family were given permission to apply for the new inquest, the Government launched its Clean Air Strategy, promising to set a "bold new goal" to reduce particulates across much of the country by 2030.
However, most of this initiative will focus on tackling farming techniques that emit ammonia and on minimizing pollution from burning fuels like wood and coal in open fires and domestic stoves.
Responsibility for air pollution caused by vehicles essentially remains with local authorities, with the most highly polluted cities expected to implement plans for clean air zones that will charge drivers to enter.
In reality, this is just likely to result in the same amount of drivers passing through but at a greater cost to themselves; something that will do nothing to substantially reduce the vehicle emissions problem in these areas.
Sadly, whilst it is obvious that there needs to be much more joined-up thinking on how this issue can be addressed, this doesn't seem to be anywhere near happening. Hopefully, a second inquest for Ella will have more impact on reducing the fumes our kids breathe on the streets than all of the plans and promises we have heard to date.