Harry & Rose Baby Bath Gift Set – why we love it!
September 13, 2018
Whilst you might not of heard of the Harry & Rose Baby Bath Gift Set, if you believe in using gentle, allergy-free baby products then you should definitely read on.
Here at The Conscious Parent Company, our team selected it especially to add to our range of products for parents that want to make considered choices about the products they buy for their babies.
That is because the Harry & Rose Baby Bath Gift Set is made from natural and organic ingredients. Even the elegantly designed giftbox includes 100% recycled paper.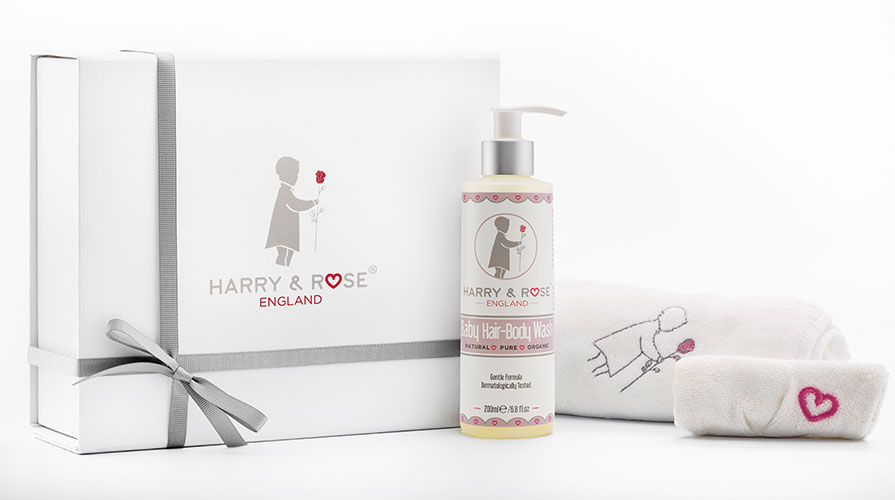 So what do you get when you open up the box?
A lovely surprise is what you'll be getting! That's because the set includes a gorgeously soft Bamboo Hooded Towel and Wash Mitt, both of which are naturally hypoallergenic.
What's more, you'll find the wash mitt design is ideal for holding baby securely in place whilst washing delicate areas.
Then there is a 200ml bottle of Harry & Rose's Baby Hair-Body Wash. This gentle baby shampoo and body wash has a No-Sting formula and an allergen-free scent, making it suitable for newborns or babies with sensitive skin.
Packed with moisture to leave your baby's scalp, hair and skin clean and nourished, the Hair-Body wash had been dermatologically tested and has a gentle pH to help protect the natural balance of your baby's skin.
Free from known and potential irritants such as Parabens, Phthalates, SLS/SLES, Dyes and Mineral Oils, the wash is made with natural, organic ingredients that can help wash away eczema, cradle cap and dryness.
These protective and restorative ingredients include:
• Calendula: the anti-inflammatory and antibacterial properties of calendula have a soothing effect to help heal eczema, wounds and burns.
• Coconut: by keeping the skin moisturised, coconut protects against rashes, eczema, patchy skin, dermatitis and cradle cap.
• Cottonseed: by nourishing the skin and retaining moisture, cottonseed oil works well for both dry and damaged skin.
• Chamomile: ideal for sensitive skin, chamomile is useful for treating rashes and skin breakouts
• Aloe Vera: working to moisturise and nourish the skin, Aloe Vera helps to soothe eczema and baby nappy rash