Summer is here so what better time to bring the beach to your baby with a coastal themed nursery. Evoking fun times, blue skies and the restful rush of waves, a nautical-style nursery can be a bright and restful haven for both you and your little one.
How to get started
Before rushing in with your transformation, think about what you love about the seaside and how you can bring that to your baby's home environment.
Some people automatically think of strong bright colours when they think of the beach: the red and white stripes of deckchairs, the bold rainbow colours of beach huts, and the intense azure sky on a hot summer's day.
For others, a more muted, restful palette may spring to mind: the pearl tones of seashells against sand, the lighter blue at the foaming sea's edge, the white of soft scudding clouds and seagulls whirring in the sky.
Try pulling your ideas together by jotting down a list of your favourite things and sketching different layouts. Better still, why not pull together a mood board, adding swatches of fabric and wallpaper, as well as photos that reflect the interior you want?
Creating your nautical nursery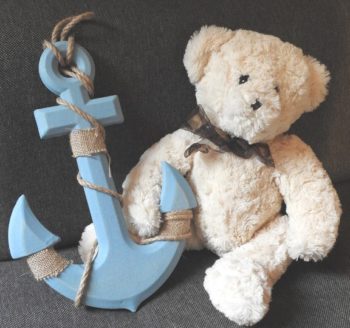 If your baby's room is already quite neutral and plain, then you have a couple of choices for transforming your baby's nursery.
Firstly, you can take the simple approach of removing any objects and accessories that don't fit with your new nautical look and adding in some seaside-themed items instead.
For the cot area, why not add a musical mobile hung with fish and whales and choose a swaddling cloth decorated with sea horses? Make a big statement with an ocean themed rug, either big and colourful with lots of fun seas creatures or a more subtle design to create a more calming feel.
Adding seaside pictures to the walls will help develop the ocean theme. In fact, why not choose some sea themed wall art that is educational as well as attractive?
Secondly, if you feel the need to do a more thorough transformation of the nursery, then you can use a palette of wall paint that reflects the colours of the sea, from emerald and jade to turquoise and deep blue, you can choose a colour that pulls together all of your coastal accessories in one stylised look.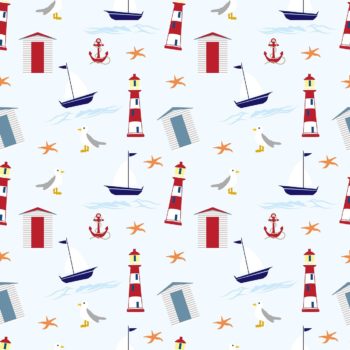 Coastal themed wallpapers can also make a stunning impact, be it on a single wall or the whole room. Why not choose a strong colourful pattern that will attract your growing baby's curiosity, such as blue splashing whales?
Or for a more tranquil feel why not paint the room in sand and shell colours, then add a subtle sailing boat wallpaper to a feature wall?
Share your coastal themed nursery
However you choose to redecorate your nursery, we would love to see photos of your coastal-themed creation.
Just email them to us at hello@theconsciousparent.co.uk and we'll share them on our social media. Or tag us when you post your images on Facebook, Twitter or Instagram.
We can't wait to see your ideas!