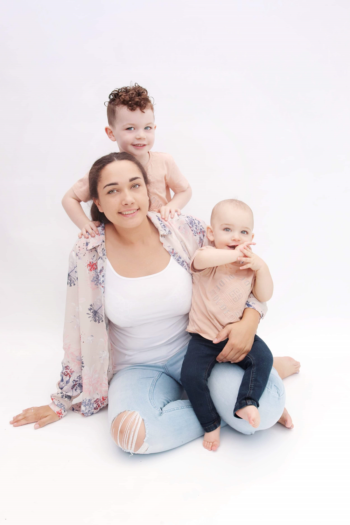 We loved hearing Charlotte's story about children and allergies. She has her hands full with two little lads, one of whom has severe allergies. Her struggles are our struggles, her worries are our worries. She is a true allergy warrior.
I'm Charlotte, a mother of two sons.  Carter is four, and Marley is one. Me and my partner have been together for 7 and half years. We are a unique little family, with a unique story.
We had a tough first pregnancy, as our first son was born with congenital emphysema which was difficult to deal with. I was 20 when he was born, which made me feel unprepared. He went on to have major lung surgery at the age of one, bit made full recovery and lives and normal life. We don't know what the future holds for him, but we take every day as it comes. Right now, he is fit and healthy and taking no medicine which it the best.
My youngest son is one years old, and he was born a big boy 9lb 4oz at 38 weeks! He is the most laid-back child, compared to my oldest-he is a wild child! Marley has several food allergies being dairy, egg, soya and coconut. He also suffers with environment allergies. He is a happy child, but we always worry about keeping him safe.  He is an epi pen carrier.
The main struggles we have as parents is keeping our youngest son Marley safe. We worry about taking him to playgroups, play centres etc, any place really were other children can run around with food. He could have a reaction at any time, so we feel on edge when we are in an environment we can't control. It's not fair for him, which is why I have set up my Allergy warrior group for other parents who share the same stresses and worries.  It's great to create a community of other parents, so that we have a space to support each other and share our experiences.  I've found there are lots of supportive spaces on mum groups on Facebook, you just need to find ones you feel most comfortable with.
Parenting changes all the time. I feel anxiety has locked in before you have given birth. So many dos and don'ts that change from one month to the next!  Sometimes I feel there is a lot of judgement around parenting. If you give them a dummy, if you don't, breast is best, or formula is great. There is so much stress! I feel like we worry about our children, and then there is extra stress worrying about our children and allergies!  I'd always advise new parents the following: Ask for advice when needed, don't listen to anyone else on how to raise your child, you have taken care of a baby for 9 months growing them inside you- you got this!
I worry about climate change and the environment. I worry for what my children's life is going to be like once they are older. What kind of world will they live in? We are wanting to make eco-friendly changes but find that for our family, its expensive. I feel like there should be cheaper alternatives to help families make the switch.
Being a parent has its challenges. It's difficult balancing work life with home life. But, its all worthwhile. My little ones wake up and are so happy to see you. Their little faces light up and it makes all the stress worth it.
Follow The Conscious Parent on Instagram!
How do you find parenting and the environment?  Maybe you have experience with children and allergies? The world is changing fast! We would love to hear from you. Contact us with your story.