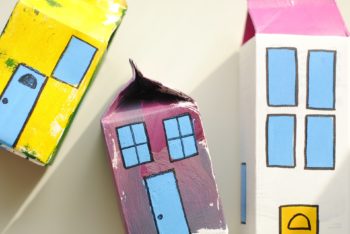 When it comes to fun crafts and activities for the little-uns, there is nobody better placed to know what works than the mums testing them out on their kids.
So it's no surprise that these four mummy bloggers have come up with loads of fun ideas for keeping little ones entertained.
Kids Craftroom
This blog is great for any parents or guardians looking for craft ideas to entertain young kids. Written by mum of three and primary school teacher, Emma, it is packed with inspirational arts and craft ideas to promote self-expression and creativity across all age ranges.
We love the free, printable template to make gorgeous paper butterflies. Just click here to read the instructions and get your free template. Or click here to visit the site and nose around.
Crafts on Sea
Written by Cornwall-based Kate, mother of two small kids and 'maker of things for kids and grown-ups', the www.craftsonsea.co.uk blog is packed with creative gems to entertain your kids.
From activities for toddlers through to seasonal crafts, you'll find loads of ideas for child-centric, creative play.
As Father's Day is only a couple of weeks away, why not check out Kate's great ideas to help kids handcraft their own special card for dad? Just click here to start those ideas buzzing.
Here come the girls
Teacher and mum of three, Rebecca, describes her blog as full of 'crafts, cooking and chaos'.
We love the Mini Me Lego Bricks for Imaginative Play and the Lollipop Stick Ski Craft.
But there's more than just craft ideas for kids, as Rebecca also covers ideas for outdoor activities, sensory play and much more. Just click here now to take a look at her blog and get those ideas flowing.
Science Sparks
More curious and scientifically minded kids will love the pre-school science experiments in this blog.
Written by Emma Vanstone, mother of four and primary science enthusiast, the ideas in this blog can't fail to develop an early interest in science and the environment.
From creating Jumping Frogs to demonstrate static electricity to crafting Gruffalo Shadow Puppets to explore shadows, Emma's activities and experiments will seem magical to young minds exploring the world around them.
Just visit her blog at www.science-sparks.com 
Why not share the fun?
We hope you enjoy doing some of the amazing activities on these mummy blogs! Don't forget to tag us in any pictures you take of your kid's creations and share them on Facebook or Instagram. We'd love to see your pics!