We all know that Eastertime provides lots of temptation for little ones to snaffle on Easter eggs and chocolate bunnies. But what can you do if you don't want the Easter holidays to be nothing but chocolate, chocolate, chocolate?
Here are just a few ideas to help you enjoy Easter with the kids without the calorie and sugar overload!
1. Make the most of the fresh air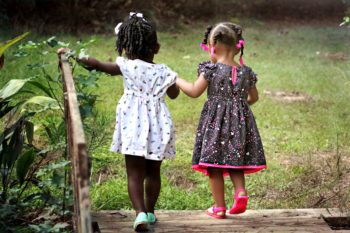 With winter well behind us, Easter is a great time to get out and about for a walk.
Whether it's a toddle through the park, a stroll along the beach or an amble in the countryside, your little one will love the opportunity to get out and explore.
Add even more excitement by creating your own scavenger hunt challenge. Just click here for ideas of what to include.
2. Create some Easter-inspired nature crafts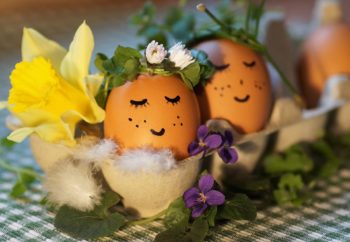 As well as giving your little one the chance to learn about nature, your walk can also be turned into an opportunity to collect objects for crafts. Try collecting a range of leaves, seeds or shells to turn into a collage or mobile.
Even if you don't get out to source craft materials from nature, you can still have lots of crafty Easter fun. Use potato printing to create a colourful Easter egg picture, try making an Easter egg wreath or woven paper Easter eggs – just click here for ideas.
To help with your fun, we've created this fun bunny face graphic which you can click here to download – just add fern or other leaves for the ears, then colour in with your favourite colours.
Or why not click here to download our Pin the Tail on the Bunny graphic? Just grab some cotton wool balls and glue and get sticking.
3. Educate and entertain
Easter is always a great time of year to make the most of the many family events that are put on locally.
Search for local kids' activity blogs like www.tripswithatot.com to find out about Easter egg hunts, Spring Chick Family Trails, Easter Bunny Tea Parties and loads more Easter-themed events.
It's also worth checking out some of the outdoor visitor attractions designed for kids across the UK.
From children's farms and adventure playgrounds to zoos and theme parks, there are a host of opportunities for kids to play and learn while enjoying the great outdoors.
4. Encourage those little green fingers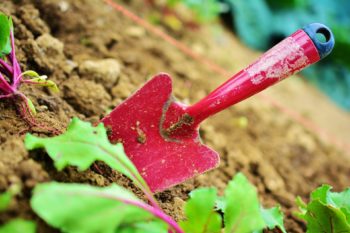 Young children are often fascinated by the concept of how things grow in the garden, so what better time than Easter to get them planting seeds in their very own vegetable patch?
April is the perfect time to plant seeds for beetroot, carrots, radishes and lettuce, giving you and your little gardener the opportunity to get planting.
Not only will this give your child a sense of ownership, they can also enjoy watching their vegetable patch transform over the coming weeks, as first seedlings then fully grown veg sprout from the soil.
If you have a meadow or area of spare garden, you can also make colourful tissue paper seed bombs packed with wildflower seeds that your kids can have fun scattering about. Just click here for tips on how to make them.
More ideas for fun with the kids
If you are looking for other ideas of things to do with the kids, why not check out our blog at www.theconsciousparent.co.uk/real-parenting/ or follow us on twitter, Facebook or Instagram?